The scariest day of the year is also the sweetest and funniest one. So get ready to surprise the little ones in the house with these clever and delicious Halloween children's party ideas.
Wonderful Halloween children's party ideas your kids will love
At a Halloween party there are three things that cannot be missing:
• Candies
• Lots of fun
• Many children!
So take note of these fantastic Halloween children's party ideas so that this 2022, the celebration makes people talk:
Monster's fingers
This great idea for your children's Halloween party brings together two of the things that children love the most: the sweet and the spooky. These fingers are very easy to make, even if cooking is not your strongest point. They are made with bread dough, although you have total freedom to turn them into one of the most nutritious Halloween children's party ideas by adding them ingredients that provide more than just sugar and flour. Place an almond on one of their ends to simulate nails, paint them with food coloring and, once out of the oven, place them vertically in a jar. Good appetite for the little ones!
Macabre glasses
How about some bloody transparent unbreakable plastic cups? You get this effect with corn syrup mixed with red food coloring. You pass the upper part of the glass through the sticky preparation, place is straight and let gravity take care of the rest.
Pumpkin painting contest
If little artist will go to the party, one of the coolest Halloween children's party ideas is to organize a pumpkin painting contest. When you buy the pumpkins that you are going to carve for the celebration, buy some more, but very small. Make all the painting materials you have available to the children and… let's create!
The contest does not necessarily have to pursue getting a winner since these types of activities have become old fashioned due to the fact that they are not compatible with all children. So each child can be the winner in a certain category or the purpose can be to create painted pumpkins to be displayed at the party.
Vampire table
Food will be served at this gloomy table exclusively for the vampires at the party, so all of it will be… red!
You can divide the table in two in order to serve salty food on one side and sweet food on the other. The important thing is that everything looks incredibly red. With the pizza, strawberries and raspberry jelly, you won't have to do anything. However, you will need food coloring for cookies and other snacks to make them as red as Dracula's dinner.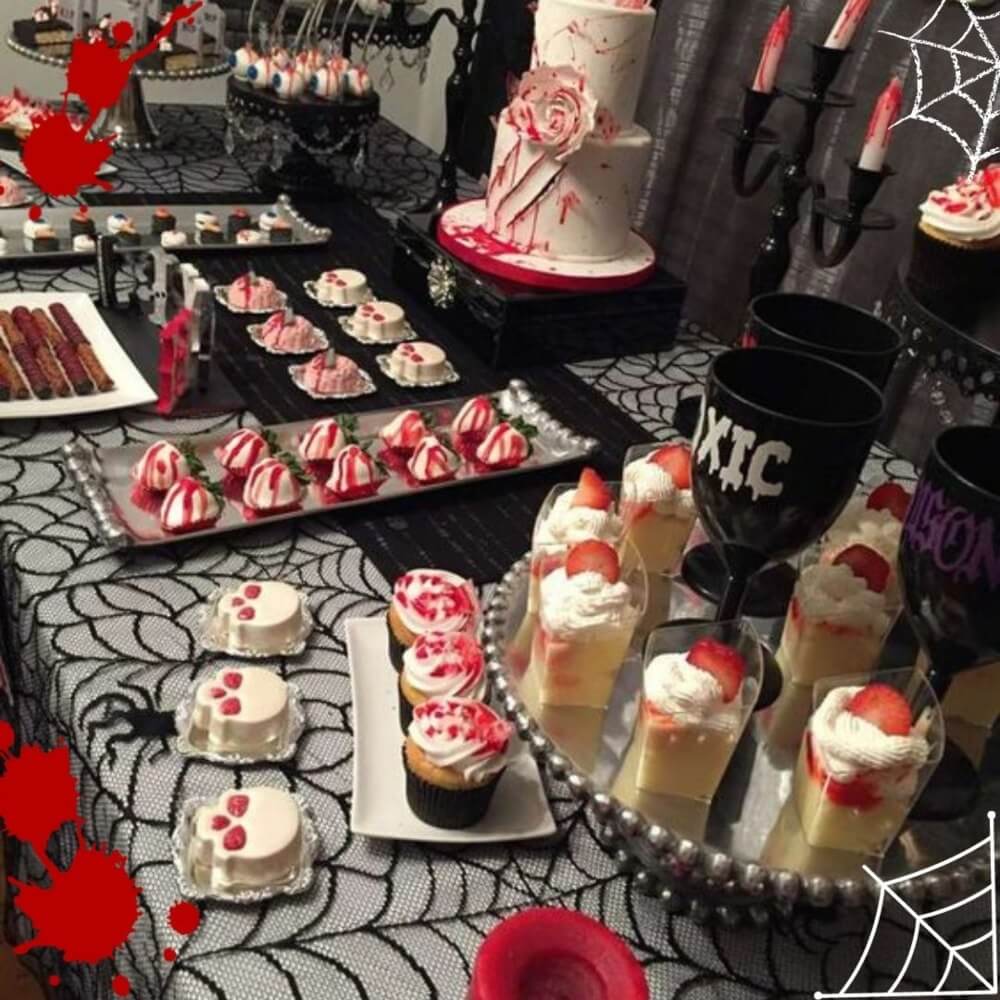 Monster tickets
No one will be able to enter without them! They are the printable tickets, full of bats, spiders and other spooky creatures, that every child who wants to have a great time should show at the spooky door of the haunted mansion. In addition to being one of the funniest Halloween children's party ideas, they will help you make a formal invitation to the lucky ones.
The witch's claw bag
When it's time to go home, all the guests will do so with a bag full of candies on their lap… unless you decide to give those old gloves you have in storage a twist and turn them into the witch claw bag. Just by adding some terrifying nails and sticking a spider or bat patch to them, it will be enough. The children will take care of filling them with treats.
Start organizing your ideas today and you will make an unforgettable party for your children in 2022. Planning in advance will make your Halloween children's party ideas shine as much as possible.